Updated January 2017

Forsyth Family From Fettercairn Kincardineshire Scotland
Possible early ancestors of Robert Forsyth and Jean Bain. Milton
1. Robert Forsyth m. Katherine Mitchell circa 1760 b. 22nd February 1730 Fettercairn, Lived at "Inch of Arnhall" near Fettercairn. ( shows up on Google Maps )
Children 6 known.
2. Janet b. 27th June 1762
2. Charles b. 14th December 1763
2. Elizabeth b. 11th November 1765 mother shown as Katherine Pressock b. 22nd February 1730 Fettercairn her mother was a Kathren Forsyth ???
2. David b. 10th January 1768
2. John b. 15th June 1770 Known as " Stout John " of Arnha' m. ?? Four known children see
3. Margaret b, 1793
3. David b. 1794.
3. Elizabeth b. 1797
3. Robert b. 1806 m. Jean Bain and family came to NZ 1863.
2. Mary b. 12th June 1776
2. Jean b. 1779

The Forsyth Family of Laurencekirk, Kincardine Scotland and Milton
New Zealand.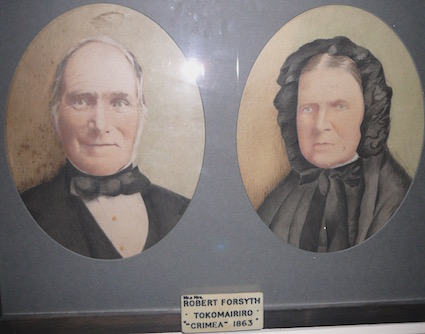 Robert and Jean Forsyth nee Bain

1. Robert Forsyth b. Fettercairn / Laurencekirk, Scotland, about 1806 d. 4th July 1891 Milton N.Z. Was originally a hand loom weaver. m. Jean (Jane) Bain b.1799, on 31st December 1825 at Fettercairn. She d. Jan 1887. The 1841 census for Laurencekirk shows Robert aged 35 and Jean aged 40 living at Laurencekirk the address given as Market Main with 7 children, Charles, Elizabeth, Jean ( Jane ), David, Mary, Ann and Robert, at home. The 1851 census shows Robert still in Laurencekirk but as being born in Fettercairn.
Robert, Jane and son Charles, came to NZ on the "Crimea" 1863. Farmed at Arnha' Back Road Milton. Arnha' ( also called Aruha ), named after Arnhall near where they came from in Scotland and was also an early accommodation house with a "Bush Licence", built originally for and operated by Frank Chrystal in the 1850's. The Back Road then was the main road to Milton township which was planned to be at Fairfax Tokoiti now merely a suburb. A portrait of Robert and Jane is in the Early Settlers Museum Dunedin. They had 10 Children
2. Charles b. 6th Feb 1828 d. 30th April 1899 m. May 1860 at Reigate Surrey, where he was a head gardener, to Lucy Jane Hazell who d. 2nd Dec 1906 at Aruha buried Fairfax Cemetery. Farmed at Table Hill from 1870. Came to N. Z. On the "Crimea" 1863. 12 Children. 8 girls 4 boys.
3. Jane b 1860 d. 1861 Reigate Surrey.
3. Elizabeth ( Eliza ) b. 21st April 1862 twin, baptised Congregational Chapel, Reigate, Surrey, England, d. 14th December 1944. m. 30th November 1882, James Bruce b. Stirling Scotland 11th July 1847, He arrived in NZ on " Andrew Jackson " July 13th 1864 d. 3rd May 1941. 6 Known children.
4. James Stirling b. 3rd December 1883.d. 23rd November 1963. m. Agnus McCall
4. Lucy Jane Hazell b. 22nd April 1885 m. Rev. William McNeur 13th March 1945 who was at Tuapeka Mouth 1939 d.10th April 1976.
4. Helen ( Nell ) b. 24th January 1888 d. 1st December 1978.
4. Charles Forsyth. b.11th November 1892 d. 23rd January 1964. m. Honora Mary Marshall 1927. b. 1900 d. 1972 Charles served 1st World War, a Sergeant in 7th Reinforcements. ( maybe? Grandchildren Val, Lived Christchurch, Joss lived Otautau, Colleen lived Dunedin, Melvyn Forsyth Bruce b. 1962 d. May 2016 Gore.)
4. Elizabeth ( lily ) Mary b. 11th March 1895.d. 7th June 1978.
4. Robert b. 25th January 1898. d. 23rd December 1965, m. Isobel Hope Mitchell.
3. Charles Jnr. b. 21st April 1862 twin, baptised Congregational Chapel, Reigate, Surrey England, m. Flora Inch Monfries 21st April 1896 buried Fairfax cemetery, daughter of David Monfries, Canada Farm, 866 acres Table Hill. which was sold to T G Dodds December 1910.
4 Children
4. David, b. 1897. Dux of Tokomairiro School 1911. Was a school teacher. 1914 Junior Teacher North East Valley Dunedin. Wounded, 1st World War, gunshots to left arm, in 34th Reinforcements. Returned home 13th January 1919. m. Edith Winifrid Monfries. David was Principle of George Street Normal School Dunedin. OBE. d. 14th Feb 1978 buried Anderson Bay cemetery block 139 plot 134. ( Note this David also wrote a history of his family, of which we have a copy. He met many of the old Forsyth Family ) 1 Daughter
5. Hazel b. ? m. Lloyd Wilson, 3 Children Sandra, Barbara and Graeme
4. Charles b. 1900, d. ?
4. Flora Hazell. b 1903 buried Fairfax Cemetery not married.
4. Lucy Charlotte b. 1905 m.?
3. Margaret b. June 1864 at Koau Bank Inch Clutha, (Edmund Bowler's place ) d. 27th m. 6th February 1902 to William Laing Kerr b. Edinburgh 1847 d. 1928 Moketua ( 2nd wife )they had 1 daughter. William Laing Kerr m. 1st wife the daughter of C T Warden, d. October 1893, from Rimu Southland and had 6 sons and 2 daughters.
3. James Martin b. 31st December 1866 at Arnha' d. 21st December 1943 buried East Taieri Block PA plot 12 Lived Caversham Dunedin in 1906, m. 19th October 1898 Mary Jane Cameron, daughter of William Cameron, from Glenore d. 7th June 1962 buried with John at East Taieri. A son of William Cameron from Glenore, named Allan, was with Edmund Bowler Forsyth when he died in Manitoba of Typhoid. 2 children
4. Charles Edmund m. Bertha Patricia Marsh, August 28th 1934 lived Ettrick 2 children
5. Peter m. Joan ?. Lived Cromwell.
5. Mary m. Douglas Sligo lived Wanaka 2 children Ljana, and Edmund.
4. William m. Mary Smitdz no children
3. Jean b.1867 ? was bridesmaid to sisters Mary Ann and Helen ( Nellie )
3. Catherine ( Kate ) b. 3rd December 1868 at Arnha' d.12th May 1955 Dunedin. m. 5th November 1902 at Milton to John Edward Lloyd b.1857 Farmer. Later lived 7 Blacks Road Dunedin, d. 5th August 1944 Both buried Andersons Bay Block 171 Plot 93 Four Children
4. Charles Joseph b. 1904 d. 1987
4. Edward Forsyth b. 1907 d.16th January 1991 m. Mabel Catherine McGill b. 1907. d. 6th January 1989, 3 children Shirley b. 1933 m. John Cochrane McMillan, Laurence, b.1938, Aldyth b. 1940. m. Keith Nelson, Dentist and an All Black, lived Auckland.
4. Lucy Charlotte b. 1908 d. 26th May 1968 Milton m.1920, Robert Flett b.1892 (son of Henry Baxter Flett b. 1846 d. 18th June 1936. ) from Table Hill who bought 866 acres in 1920 at Table Hill from T. H. Dod ?? Had twins. Son Graeme, also a daughter Patsy.
4. Robert Forsyth b. 1910 d. 1964
3. Helen (Nellie) b.15th December 1870 at Arnha', d. December 1935 at Balclutha m. 11th November 1909 to James Alexander Sloan at Arnha' , then in brother Robert's possession 1909. James Sloan b. 11th November 1877 Invercargill, d. 1st January 1952 was the Balclutha based representative for #Mollison and Co Dunedin. Nellie taught millinery at Southland Technical Institute at Invercargill. Was also Head Milliner and Dressmaker at Price and Bullieds Invercargill and at Guests, Blackwood and Chapmans Balclutha
1 child
4. Edna Bowler Forsyth Sloan ( Named after her uncle who d. in Manitoba ) b. 21st Sept.1911, d. 16th February 2002, m William Daniel Sceats 1936, 4 children,
5. Kathryn Gillian m. Jack Albert Stabler
5. Sally Sloan, m. Ian Thomas Gazzard
5. James William Jon d. 1996 single.
5. Susan Jane. m. Denis John. Parker
3. Robert b. 2nd November 1872 at Arnha', d. 1942 Lived at Arnha' after father Charles died. Never married
3. Mary Ann (Tottie) twin b. 12th October 1874 at Arnha', d. ? m Sept 1905 to Joseph W. Jordon, d.1st June 1934 Rangiora. Was at Post Office Temuka when married, son of J. W. Jordon Karori Wellington. One son Bruce.
3. Edmund Bowler twin b. 12th October 1874 at Arnha', d. Nov 1st 1908 at Eagle River Manitoba Canada of Typhoid
3. Lucy Jane b. 6th April 1876, not married, lived Arnha' until Robert's death and then sold it and moved in with the Lloyds North East Valley Dunedin. Buried at Fairfax cemetery Milton.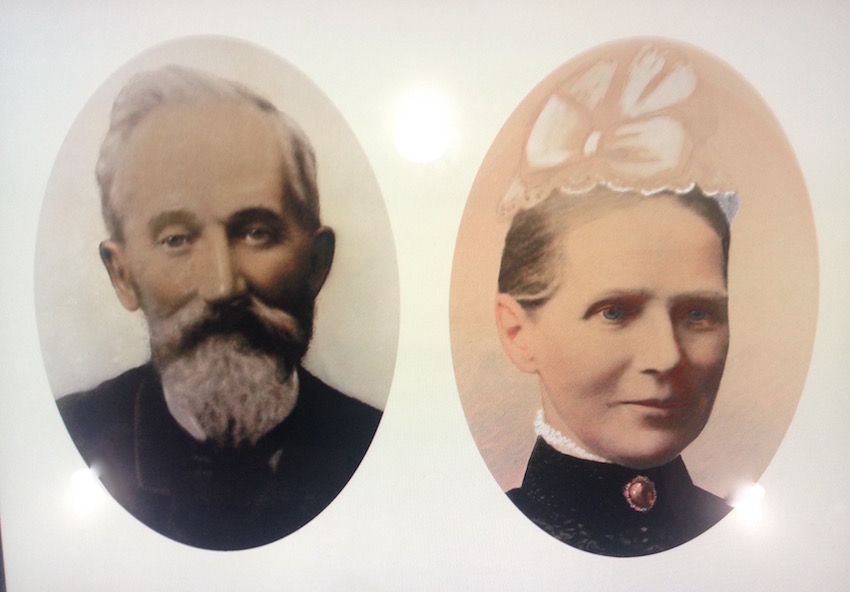 Alexander and Elizabeth Mollison nee Forsyth

2. Elizabeth b. 29th Nov. 1829 d. 8th July 1891 came to NZ on "Egmont" first to Lytttleton, 1856 they later travelled from Lytttleton to Dunedin by the 30 ton schooner/cutter "Julia Ann" and because of bad weather the ship had to take shelter at every midway port and weighed anchor at Port Chalmers after a voyage of 11 days on 15th January 1857. Elizabeth was m. July 18th 1854 to Alexander Mollison at Montrose, Angus,Scotland b. Marykirk, Laurencekirk Kincardineshire 15th July1823. d. 30th January 1900. He was the son of Benjamin and Jessie ( nee Fawns ) Mollison. A successful business man. Founded #Mollison and Co, 195/7 George St. cnr Frederick Sts., Dunedin. Was at Gabriel's Gully, where he owned a store, also lived "Janefield" East Taieri and 1870's at "Waihola Park" Waihola. Mollison's rise on old main road at Waihola named after Alexander. Lived "Egmont Villa" Roslyn Dunedin. Buried Southern Cemetery Block 31 plot 4a. A portrait of Elizabeth and Alexander is in the Early Settlers Museum Dunedin. Elizabeth's father Robert presented them with a book as they left Scotland called "James's Christian Father's Present" and in the flyleaf is written the following inscription: "Presented by Robert Forsyth to his Daughters Elizabeth and Jane and son in law Alexander Mollison on their leaving Scotland for New Zealand with the fervent desire that they may profit by it, and that God may guide them by his counsel while they live and afterwards receive them to glory. September, 1856 " It makes for very good reading and if every parent in this country were to read what it contains about bringing up children our country and our children might all be better off for having done so !!!
They had 8 children
3. Jeannie Forsyth b. Dec 5th 1857 d.7th September 1922, m. 4th Dec 1878 to Peter Duncan Solicitor Dunedin, b. 31st Jan 1854, d. 23rd April 1927 buried Northern Cemetery block 191a plot 89. Lived Drivers Road, 3rd son of Geo. Duncan esq. Almeda County California. 2 children
4. Frederick George b. 1879 Solicitor graduated June 1906, d. 14th November 1953. Buried Northern Cemetery block 191A plot 89. Lived 12 Tolcarne Av Dunedin.
4. Edmund Alexander a Solicitor, b. 1884 d.1st October 1947. m. March 17th 1917 in Weliington to Ann ( Nan ) Robertson Duncan from Park Tce Christchurch ( Daughter of Mrs Margaret and late John Duncan From P & D Duncan farm machinery manufacturers ) Lived 70 Heriot Row Dunedin.
3. Jessie Fawns b. ? 1855 m. 5th June 1878 the Reverend George Lindsay b. 1846 Reverend at Waimate and Otepopo ( Herbert near Oamaru ) and who was Pastor at St Paul's Presbytery Invercargill November 1888. He administered the last rites to Minnie Dean a notorious convicted baby killer, who was the only female hanged in New Zealand, at Invercargill Prison August 1892. George was also was at 1st Church Dunedin by 1913. Died Christchurch 27th August 1933, buried Andersons Bay block 133 plot 8 with Helen d. 1920 and Andrew Bonna Lindsay b. 1881 d. May 1970 aged 89.
3. Alexander Edmund Robert b. 1856 d. 22nd March 1881 at Darvel, Summerhill, Sydney NSW aged 25 years.
3. Annie Forsyth b. 1859 d. 11th April 1926 buried Sydenham Christchurch, m. 21st January 1890 to Robert Shennan Charters ( sometimes spelt Chartres ) b.1857 Wisconsin USA arrived on ship " Bombay " 9th September 1862 with parents, was manager Puketoi Station Maniototo eldest son of Robert Charters of "Ury Park" East Taieri d. 27th March 1908. Married at brides parent's home "Egmont " Roslyn Dunedin by the Reverend George Lindsay ( Brother in Law ). Robert Charters was an expert judge of Merino sheep, of which Puketoi Station, owned by, his uncle, Watson Shennan b.13th Feb 1832 Kirkpatrick Durham Kirkcudbright, and a pioneer run holder, ( his Mother's brother ) was renowned. Robert Shennan Charters eventually owned Greenvale Station Waikaia and died in Dunedin 5th Sept.1933. buried at Sydenham Christchurch Block 1G plot 33. Robert also managed "Conical Hills" station from 1907 for his uncle Watson Shennan, after his Puketoi appointment. Robert left an estate of 50,000 Pounds. Watson Shennan built and lived at "Threave" one of Dunedin's most magnificent stately homes situated on High Street. 3 Children
4. Robert Gordon b. 3rd November 1890 Roslyn Dunedin, served 1st World War Lieutenant. Awarded Military Cross. m. Hyacinth Bews July 1924 at Invercargill.
4. Jean Danford b. 11th Feb 1893 m. Stuart Scoullar
4. Doris b. 28th November 1898 m. Dr. L. A . Bennett of Christchurch December 1923. at First Church Dunedin.
3. Elizabeth ( Lizzie ) Forsyth b. Nov 14th 1861. Their fourth Daughter d. 23rd March 1882 aged 20. Buried Southern Cemetery Block 130 plot 1. With John d. 29th Aug. 1889 Grain Merchant and Margaret Crawford d. April 1883 ( Uncle and Aunt ?).
3. Mary Catherine Helen b. 1866 d. 11th July 1959 aged 93. Unmarried, Lived 819 George St Dunedin.
3. James Fawns Mollison Jnr. b. 21st January 1868 d.16th May 1940 Buried Anderson's Bay Block 137 plot 85.. Lived Heriot Row, and 476 Leith St Dunedin. m. Edith Mabel ? d. 1st October 1944 buried with James. Draper and later a Real Estate agent. 2 Children
4. Douglas
4. Eileen m. a farmer? from Waianakarua North Otago.
3. Margaret b. 1869 d. 26th February 1943, unmarried, also lived 819 George St Dunedin with sister Mary Catherine Helen. Margaret was Matron of Knox College and in 1920 was appointed Matron of St Andrews, Christchurch with her sister Helen as assistant.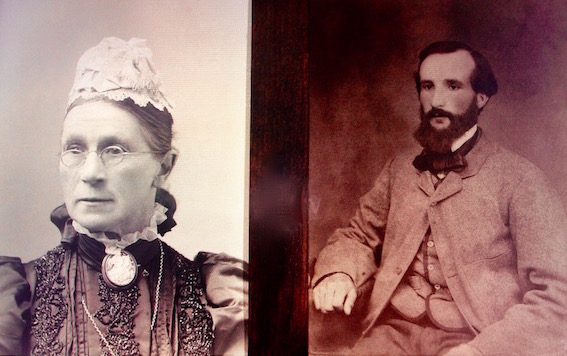 Jane nee Forsyth and Edmund Bowler

2. Jane b.13th February 1832, c.4th March 1832 Laurencekirk d. July 12th 1924 aged 92 at Hart St, ( living with daughter in law Charlotte widow of Eden ) Dunedin, came to N.Z. on the "Egmont" with sister Elizabeth and Alex Mollison to Lyttelton 23rd December from Gravesend London 1856. They were m. 3rd March 1859 in Episcopal Church Dunedin, to Edmund Bowler farmer at "Koau Bank" Inch Clutha South Otago. and who also had the lease in 1858 to 59 of the 90,000 acre Omakau Station, and leased run 170 Beaumont in the early 1860's and it was from the shepherd's hut at this place that Gabriel Read was directed to the gully where the famous gold discovery was made in 1861. Edmund named the property "Bellamy" after his sister's estate in Ireland. Edmund c. 6th Jan 1833 St. Marys Reading Berkshire, England, arrived in N. Z. at Lyttleton on the " Grasmere " 455 tons, skipper was Captain F. Yeo, in May 1855. Edmund accidentally drowned on the Inch Clutha farm 13th Nov. 1865. Buried Northern Cemetery block 181 plot 3. A portrait of Edmund and Jane ( above ) is in the Early Settlers Museum, Dunedin. Edmund also owned the land on which Knox Church Dunedin was built.
After Ann Forsyth arrived on the "Strathallan" in January 1858 with brother David, she and sister Jane Forsyth set up above Alexander Mollison's shop in Stafford Street a Millinery, Dressmaking and a Straw Bonnet Making Business. Some goods for both businesses had arrived on the "Strathallan" with David and sister Ann Forsyth. It seems Edmund travelled from Lyttleton to Port Chalmers on the " Julia Ann " in January 1857 and met Jane Forsyth who was travelling with older sister Elizabeth and husband Alexander Mollison and family. A passenger list confirms they were on board on arrival at Port Chalmers January 15th 1857 after a very slow stormy 11 day passage. Jane and Edmund had 5 Children.
3. Mary (Mollie) Catherine Pierpoint b.17th January 1860, d. August 10th 1913 m. Edmund Robinson Smith, OBE 1919 b. Kuri Bush Dunedin 1856 d. 20th March 1942. Lived 75 London St Dunedin. Edmund R. Smith was promoted to Lt. Colonel of the Otago Regiment in 1900. A Share Broker "Quick and Smith" Water St Dunedin. Lived London Street. They are buried Southern Cemetery Block 133 plot 8. They had 8 children.
4. Eileen Bowler b.1886 d 12th. Feb 1936 buried Southern Cemetery Block 133 plot 8, BA Otago University 1908. lived 139 London St Dunedin.
4. May Pierpoint b.1885 d. 1968 m.18th November 1908 to Frank Hadfield Statham b. December 31st 1879 Dunedin. from Mornington son of Charles Hadfield Statham, Public Accountant. Major F. H. Statham was killed by friendly naval fire at Chunuk Bair Gallipoli 8th August 1915 along with his younger brother Clive. Lived 139 London St. Dunedin. 2 Children
5. Mary Olive b. 1908 m. Talbot
5. William Bowler Hadfield b.1911
4. b. 1887 John Marden .
4. b. 1889 Stanley Wickcliffe m. Francis Margaret Toase
4. b. 1890 d. 1891 aged 9 months Gwendoline Mary
4. b. 1893 Rona Percival served 1st world war. Egypt and visited Uncle Edmund Robert Bowler there with cousin Donald Stronach. d. 3rd September 1962.
4. b. 1897 d. 1991 Ngaira Quick
4. b. 1899 d. 1968 Stella Mary
3. Jane (Jeanie) Bowler b 18th May 1861 d. May 6th 1926 at Wellington. m. 12th July 1887 at Knox Church Dunedin to Mungo Watson MA b. 1856 Daldorch Ayrshire Scotland d 19th Sept.1919, a legendary Otago Boys High School Classics master for 36 years. Buried Andersons Bay Block 40 plot 86. Lived 142 Cargill Street Dunedin. Knox Church was built on land originally owned by the Bowler family. Wife, Jane Watson, buried with Mungo. Jane Bowler Watson sold Cargill St Dunedin and moved to Wellington in 1921 and lived at 46 Moorehouse Street Wadestown. Children.
4. Edmund Bowler Watson, lived Auckland.
4. ? ( Jack ) Mungo Park Watson b. June 30th 1890 d. aged 22 on 27th May 1912 .
4. Marian Grace, who m. William McLean Barr J.P. asst. Public Trustee, Wellington, second son of James Barr of Wellington 9th September 1921. 2 daughters
5. E. W. Barr
5, C. J. Barr
3. Eden b.1863 m. Charlotte Reid at "Salisbury" North Taieri 23rd March 1893, 4th daughter of Donald Reid. M.P. and a prominent Otago businessman. Eden d. 1916 as a result of a car accident, 18 months previously, at Nenthorne, near Middlemarch, with Brother in Law, Charles Stuart Reid who passed away before Eden. Charles buried Southern Cemetery block 22 plot 5. (Eden at the Northern cemetery block 181 plot 3 with the Bowlers.) Eden lived at "Mavora" 23 Hart St Dunedin. Both were auctioneers - Eden for Dalgetys and Charles for Donald Reid his father's company. 1 Daughter .
4. Heather Francis b.13th December 1895 d. 28th June 1928 at Sutton Otago. m. Kenneth Burns, May 25th 1922 at Knox Church Dunedin. Buried with grandfather, father, mother, a sister and brother in plot 181 plot 3 Northern Cemetery.
5. Daughter, Barbara b.? 1924
3. Edith Blandford b.1864 d.14th November 1919 was m.18th Oct 1888 at Knox Church to Arthur Cundell Stronach b. 1861, d. 1st September 1904 buried Northern Cemetery Block 118 plot 4, Stock Agent ( 2nd son of Donald Stronach, N Z Loan and Mercantile Agency Co. Ltd., manager. In 1890 he started trading as Donald Stronach and Son which later became Stronach Morris and Co. He died 1st October 1891 buried Northern CemeteryBlock 118 plot 4. ). and lived at Cliffs Road Dunedin d.1st September 1916. Edith and Vera buried Northern Cemetery block 181 plot 3 with the Bowler's. Children
4. Vera Blandford b. 8th September 1890 d. 6th February 1906 buried with Bowlers block 181 plot 3.
4. Donald William b. 1892 d 26th March 1960 buried with Father. Served 1st World War awarded the M.M and commissioned May 1918. Was a launch proprietor Akaroa.
3. Edmund Robert b 21st July 1866, d. 15th December 1927 Timaru. Lawyer, graduated Dunedin 1888, Practised at Gore, lived at " Athelstane" Ardwick Street and was a Lt. Colonel NZ Army served at Gallipoli, 1st World War. m. Mary Ethel Hepburn 12th Nov 1890 at the Hepburn residence, Leven Street Roslyn Dunedin. ( Ethel was daughter of William Hepburn Auctioneer and Margaret Dunbar Marshal m. 25th Nov. 1863. William was the son of George Hepburn d. 9th December 1883 aged 82. a Knox Church Elder and founding congregation member. George was m. to Rachel Paterson d. 18th August 1878 aged 73. William's sister b. 1843 d. 1923, Jessie Sinclair H. married 15th November 1864, to R. A. Lawson a famous Dunedin Architect who designed Otago Boys High School, Dunedin Railway Stn, Larnach's Castle, Knox Church, 1st Church and many other land mark buildings. Another Hepburn the youngest sister Rachel married William Downie Stewart whose son Wm. Downie Stewart Jnr. who was eventually to became a N Z Cabinet Minister and prominent Dunedin businessman. In 1900 he was bestman to Peter Barr, son of Archibald Barr d. 1898, and Geo. Hepburn's eldest daughter, when Peter married a May Forsyth from Greymouth,( May was a daughter of Robert Craig Forsyth b.1847 to William Forsyth and Margaret nee Craig.from Girvan Glasgow. He became a prominent Hardware Merchant and Mayor of Greymouth ) known children, son Archibald Forsyth d. infant 1901, daughter Nancy Forsyth m. Gordon John Whitely Vaughan 20th December 1928 (a bridesmaid was a Marjorie Statham), and son Robert Forsyth Barr b. 1907. who m. Jessie Coghill Peacock February 1938. ( May Forsyth from Greymouth is no relation we know off. But that is how Forsyth Barr now a leading share brokering company came into being.) George Hepburn's eldest daughter d. 1908 m. 1858 to Archibald Barr 1st C. Post Master Dunedin d. August 1898.
Wm. Downie Stewart senior's only other son was Lieutenant Colonel George Hepburn Stewart b.1875 a farmer from " Westwood " Crookston West Otago and who commanded the Canterbury Mounted Rifles in W.W. 1 but unfortunately died of illness November 20th 1915 at Gallipoli, is buried on the island of Lemnos. George had m. Elizabeth Woodhead Herbert in 1913. ).
Ethel d. May 15th 1947 Timaru. Edmund was the first New Zealander ashore with the Australian infantry at Gallipoli. Returned from the war April 1916 after upsetting senior army officers by his frankness and opinion that the Gallipoli invasion was going very badly and mismanaged. After being invalided off Gallipoli he went to London September 1915 and spoke to N Z High Commissioner Sir Thomas McKenzie about how to manage a withdrawal from Gallipoli as he was pessimistic and disgusted about the mismanagement and spinelessness of the senior military commanders. History has now confirmed him to be correct but he returned to N. Z. in April 1916 on the Ulimaroa and was then snubbed by the Military establishment! Was Edmund influenced by the loss of his niece's husband +Major Statham killed on Chunuk Bair along with his brother by friendly naval artillery fire on the 8th August 1915 ? Also the loss of wife's cousin Lt Colonel George Stewart must have affected him too. Edmund founded the Gore R. S. A. Retired to Timaru, lived Wai-iti Road. Edmund and Ethel buried Timaru Cemetery. Children 3 daughters
4. b.1891 Margaret Ethel.( Known as Marjorie, Margie ), single in 1931, lived Timaru with her mother. Was a pianist. Attended Braemar House School Dunedin
4 b.1895 Hilda Gordon. Attended Braemar House School Dunedin. which in 1914 had it's goodwill purchased by Colomba College. m. Dec 1917 at Gore Presbyterian Church to d'Auvergne Stanley Leigh Grut, Captain N Z Army, who was wounded at Gallipoli, Accountant, Councillor, JP, Public Trustee, Coroner, lived High St. Waimate.
4. b. 1899 Claris May. d. July1985 aged 97. m. Frank Maurice Francis b. Oct 16th 1904. 2 Children
5. Patricia Joy Garton. b. 1911 d. 1965 as result motor accident 2 children, Maurice John b, 31st January 1954 Lives Auckland, Patrician (Trish ) Raewyn b. 9th June 1955 lives Connecticut USA
5. Murray Bowler Francis b. 6th November 1934 at Tauramanui. m. Alice Elizabeth Porritt b. 23rd March 1936. 2 children Rodney Brett b. 25th October 1965 Victoria Leigh b. 10th October 1967.
David Forsyth
2. David b 10th Dec.1833 Laurencekirk, miner, farmer, builder came to NZ with his sister Ann on the "Strathallan" 1858 d.13th June 1912 aged 78 m. 23rd March 1860 at Knox Church, Mary Ann Strachan b.16th April 1831, from Montrose Scotland, father R. Strachan shipbuilder, d. 20th April 1876 aged 41, buried at Southern Cemetery block 32 plot 1. Lived Elm Row Dunedin where he owned 3 houses. The shipping notes shows David was a Shepherd from Montrose and sister Ann a dressmaker. David built many old Dunedin buildings during the gold mining boom. Earlier farmed at Table Hill 1874 and Lovells Flat where he had 150 acres near North Tuakitoto settled 1859, sold March 1915. Had 2 sons who survived and 5 children who died very young, including Ralph Ewing d. 24th March 1876 aged 4, Sarah Jane d. 19th Feb 1868 aged 2 months, David Howie d. 24th August 1874 aged 9, Ernest Johnston d. 21st Feb. 1876 and 2 unnamed babies. After Mary Ann died David married a second time to Ann Rentzen.
3. Robert A draper at Brown Ewings Dunedin, b 1860 d. 22nd June 1947 lived 8 Scotland Street Dunedin. m. Margaret Thompson b.1862 d. aged 83 10th November 1943, only daughter Gladys Irene b. 12th August 1891 d. 19th August 1937. son Alfred Stewart b. 1870 d. 9th October 1952 buried Southern Cemetery block 31 plot 4 A.
3. Alfred Stuart Farming at Table Hill "Canada Reef " 1900's. Found and mined Hematite 1912 at Table Hill. The "Canada Reef" had a stamper gold battery operating there until 1911. Leased his farm 1906. Not married.

The White Horse Hotel Built in 1861 by David Forsyth for 600 Pounds. Corner St. Andrew and George Sts. Dunedin Diagonally Opposite Knox Church. Black Bull Hotel Opposite on London St Corner.
The Old White Horse Hotel was Demolished about 1880 and Replaced With New Premises for Mollison and Company.
2. *Mary b. 6th Nov 1835 came to NZ on the "Sevilla" 598 tons 2nd December 1859 from Glasgow, d. 14th June 1906. In 1859 m. *William Anderson Ewing 25th April 1862 1st Church Dunedin, b. 1838 Craigmill Stirling Scotland 1838, lived " Ewington " 78 Elm Row Dunedin d. 23rd Jan 1918. Mary and William must have met on the "Sevilla" as passenger records lists them both being on the voyage. William Ewing was a successful businessman including gold mining at Gabriels, Waipori and Dunstan, flax, and the Ewing Phosphate Co Clarendon, also Brown Ewing and Coy Dunedin *Buried at Southern cemetery block 21 plot 8 with wife and daughter Margaret. Of Brown Ewings & Co Dunedin. 4 known children.
3. William Ewing b.1865 Sharebroker Lived 125 Cargill Street Dunedin, d. 1936 Buried Andersons Bay Block 90 plot 4 with wife Mary. b.1876 d. 27th Dec. 1961. Daughter ? May b 1893
3 Annie Forsyth b 1866 d. 30th April 1933 m Ralph Stephenson 1896 Doctor b. Victoria 1867, d.19th January 1924. Both buried Andersons Bay Cemetery block 90 plot 28 lived 7 Hobson St. St. Clair Dunedin.
3. James ???
3. Ralph A Ewing b. 1875 Farmer Flagstaff, Manager Ewing Phosphate Co.where he lived d. 23rd November 1910 at Clarendon, buried there. Ralph's death was in strange circumstances, suspected of suicide by cutting his own throat with a pen knife on the main road at Clarendon !! Never married.
3 *Margaret Janet b. 1879 d. 28th Dec 1907 Buried Southern Cemetery Block 21 plot 8.
2. Ann b. 22nd Jan 1837 d 21st Jan 1909 Arrived on "Strathallan " 1859 dressmaker. Unmarried, Lived Sussex Villa 20 Leith St Dunedin. Buried Southern Cemetery block 31 plot 4a with Jane Corrie d. 22nd June 1934 aged 83, Alexander Mollison and Elizabeth Forsyth Mollison. Was in business with older sister Jane b. 1832 as a Milliner, Dressmaker above Mollison's Stafford St Shop in 1859. Head Dressmaker for Brown Ewing.
2. Robert b. 10th Oct 1839 d 18th Oct. 1865 Killed in accident at Wanganui in a sand slide. Arrived NZ December 2nd 1859 on " Sevilla " with sister Mary
2. Catherine ( Kit ) b. 24th Dec 1841 d. 17th Oct 1918 aged 77. Ossian St Milton m. 27th October 1882 John Farquharson a farmer North Branch Milton. One son Jack died young.
2. Margaret ( Maggie ) b. 24th March 1843 d 19th Feb 1938. aged 94 m. 10th March 1869 to Adam Johnston then of Survey Department, who died after falling of a horse just after being appointed resident engineer Clutha Railway based at Milton. Injured in an accident falling of a horse on 21st January, sustaining serious head injuries, he passed away 23rd January 1874. Adam surveyed and supervised the building of Caversham to Burnside rail tunnel in the 1870s. The station called Johnston on the Milton to Lawrence line was named in his honour and also Adam Johnston was responsible for naming of the station Forsyth, near to Lawrence, after his wife. Earlier Adam was an Assistant Surveyor, under J. T. Thomson, surveying the proposed township of Cromarty at Preservation Inlet Fiordland. 2 children.
3. daughter Bertha b. Dunedin 3rd November 1871 m. Jack Glendining of Ross and Glendining.
3. Son Forsyth b. 9th September at Cargill St Dunedin 1873. He was a manager for Briscoes in Dunedin, m. yes ? d. 30th September 1943 lived 53 Royal Crescent Dunedin.
Both Adam and Margaret are buried Southern Cemetery block 33 plot 22. Lived 5 Arthur St Dunedin.
2. *Helen b.28th December 1846, c.24th Jan 1847 d. 23rd April 1929 m. Rev John McAra 19th Dec 1872 at Kaou Bank, Inch Clutha. Was at the Baclutha Presbyterian Church from 1872 to 1879. He died 25th January 1890 as a result of an accident when thrown from his buggy whilst serving at St. Andrews Church Gisborne. Daughters Isabel and Florence were with him. John McAra was b. Crieff Perthshire Scotland 28th March 1841. Helen lived 73 Belgrave Cres Dunedin with eldest son after John's sudden death. Helen is buried Southern Cemetery. 4 children
3 Johnston b. Balclutha 1st Oct 1875 d. Dunedin 18th Oct 1967 then residng 27 Belgrave Cres. Dunedin. m. Jessie Anderson Swanson b.1877 d. 22nd June 1919, at Knox church Dunedin on 9th Sept 1902 then lived 73 Belgrave Cres. Dunedin. Johnston worked at A & S Patersons Dunedin. A Captain in Dunedin City Rifles. Also a Colonel in the Otago regiment. Artist. Buried Andersons Bay Block 41 plot 116. Child
4. Edmund John McAra b 1906 d. Crete, 20th May 1941 a N. Z. Infantry Lieutenant. 22nd Battalion. Lived Wellington N.Z., was a commercial artist m. Mavis Winifred Miller b.1903 d.1983. Two children.
5. Donald John McAra. Professional Artist. b 19th July 1937 m. Jill McNaught. Children
6. Juliet,
6. Lynne, McAra/ Clark
6. Sally,
6. Alastair,
6. Kattrin.
5. Alistair David b. 21st September 1940 d. January 6th 1941
3. *Edmund James. b. 1877 Doctor, M.B. Ch.b. in 1900 but d. 3rd Oct 1900
3. *Isabel Jane b. 1879 d. 20th June 1899
3. *Florence Forsyth b. 1881 d. 30th Jan 1896.
*Helen McAra nee Forsyth and 3 children are buried Southern Cemetery Block 17b plot 16
Numbers 1. 2. 3. 4. 5. 6.= Generations from Robert and Jane. 1. b. = Birth d. = Death m. = Marriage. Errors and Omissions Excepted.
Ian Gazzard Researcher Wanaka New Zealand.
Welcome to www.gazzard.net