Hollebon Family - Sussex UK, Waihola, Waitahuna, Dunedin N. Z.
1.Thomas Hollebon m Joan Seaman 3rd July 1580 East Blatchington East Sussex.
2. Richard Hollibone b. March 1593 d. 1648 m. 26th Sept 1621 Joan Lewes at East Blatchington Sussex.
3. John Hollibone b. January 1626 d. 1689 m. Ann Wickerson East Blatchington Sussex 3rd March 1652.
4. James Hollebon b. 1655 m. Elizabeth Treape East Blatchington Sussex.
5. Thomas Hollebone b. 1682 East Blatchington Sussex m. Mary ?.
6. William Hollibone b. Westham Sussex 1715 d. Jan 1794 m. Susanne Dulvey Westham Sussex April 1746.
7. George Hollebone b.December 1753 d. 1840 m. Anne Hoadley 29th January 1776 in Hastings St Clements Sussex Anne d. March 1783.
8. Thomas Hollebone b. March 1777 m.Elizabeth Riddle Willingdon Sussex 29th April 1806
9. Francis Hollebone b Willingdon Sussex 1815 d. 1887 m. Barbara Dennis b. 1816 d. 1902
(10 ) John Abel Hollebon b 1852 Willingdon Sussex, d. 10th June 1936.St. Leonards NZ m. 27th July 1881 at Waihola to Agnes Anne Andrews. b. 1865 d. 23rd July 1906 aged 41.
Notes on John Hollebon as related by his son Alfred Hollebon who lived at Anglesea Victoria, Australia, in December 1979 to his niece Olive Gazzard nee Graham.
Thomas and Susan Andrews sometime about 1873 nominated Abel Hollobon to migrate to New Zealand or work on the NZ Railways. He had very little education and did not like his biblical name so placed John in front of it so became John Abel known as John Hollobon on the ship "Charlotte Gladstone" during the trip to New Zealand. Fever broke out and they buried quite a number at sea. He had the fever but survived. His name appeared in some notice boards but was spelt the wrong way, it appeared as J A Hollebon, he never had it corrected and arrived in New Zealand as Hollebon. After a while he went over to Australia to work around Adelaide, Port Wakefield, Port Augustas, Kadena. He then returned to New Zealand as he wanted to marry Agnes Annie Andrews the daughter of Thomas and Susan his sponsors.
They lived at Lakeholme Berwick Waihola, Round Hill Waitahuna. John died at St Leonards Dunedin on the 10th June 1936.
(11) They had 10 Children
Mary Jane b. 8th 1882 m John Henry Kewish 1907
2 children John Alfred b. 1908 Agnes Jean b. 1911
Barbara b. 22nd September 1883 Waihola d. 1st November 1964 Dunedin. M. James Graham 2nd January 1903 at Waihola.
Lucy b. 29th March 1885 Waihola d. Waitahuna lived at Round Hill.m Adam McCorkindale.
3 Daughters Alma m.Hargraves Lived Glenore Milton one daughter., Marjory m. Graham Stanton, and Catherine.
Frank Thomas b. 7th January 1887 Waihola m. 3rd July 1912 Elizabeth Annie Houston d. Accidently drowned Mercer Waikato 28th Februery 1927. Had 5 children Alec, Annie Agnes b. 1916 d. 25th February 2006 m. Neil Loughrey they had 5 children, plus Frank, Trevor b. 25th September 1924 Auckland d. Dunedin 10th January 2009, and Betty.
William b.16th May 1888 Waihola m. Elizabeth Hillis
Rose b. 18th July 1890 Waihola m. Robertson? 27th April 1912?? d.1992 Ballarat Australia.
John b. 13th April 1892 Waihola m. Florence Palmer daughter Dallas.
Alfred b. 30th November 1897 Waihola m. May Eliza Yates 2 children Bertram ( Bill ) m. Eileen Chrichton, 2 girls, Andrea d. never married, Veronica m. Peter Baldwin.2 children Deonie and Adam. Kathleen May m. Jack Blomley 2 children Judith and Rodney m. Jenny Hurley..
Agnes b. 28th July 1900 m. William Barry 1 son William Lived Dunedin.
Louisa b. 5th May 1902 m. Jack Patrick Alphonosus Corcoran Lived Dunedin 4 Children John, Valerie, Leslie and Patricia.
Thomas and Susan Andrews Golden Wedding January 1912 at Waihola Otago N Z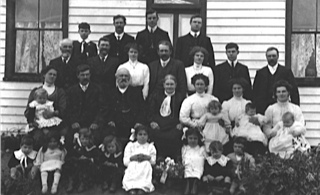 Back Row. Alf Hollebon, Albert Andrews, Bill Hollebon, John Kewish.
Next Row John Abel Hollebon, Walter Andrews, Rose Hollebon, Fred Andrews, Lucy Hollebon, John Hollebon jnr, James Graham,
Next Row Kate and George Andrews and baby Tom, Tom and Susan Andrews, Mary Jane Kewish nee Hollebon and child Agnes Jean Kewish, Rose Robertson nee Andrews with Doris Graham, Barbara Graham nee Hollebon with baby Frank, (Jock ).
Front Row Ivan Graham, Olive Graham, Dolly Andrews, Madge Andrews, Agnes and Louise Hollebon, Jack Kewish jnr, Elwyn Graham.
Back to Home Page