Whilst every care has been taken in compiling this information no guarantee can be given as to its accuracy. If any person can assist with additional details or corrections I would be pleased to hear from them, email details are on the home page. Ian Gazzard Lake Wanaka New Zealand.
The Sloan Family of Kirkcudbright Dumfrieshire Scotland and New Zealand
James Slowan m.circa 1740 to Margaret Mcclallan or Mcclellan Lived Buittle Scotland. Brothers ? William Slowan m circa 1753 Janet McClamroch Children John b 29th December 1755, Jean b 2nd May 1757, Alexander b 12th March 1761, James b 8th September 1768 all born Kells. David Sloan had son b 5th October 1742 Kells
Children of James Slowen and Margaret McClellan
William b 13th August 1742 Buittle Kircudbright d Young ?
James b 25th June 1744 " d Young ?
Ebenezer b 20th February 1746 Buittle d. 18th April 1830 at Buittle m. Jean Brydson 9th May1771
!James b 19th April 1747 Buittle
Nathaniel b 17th June 1758 Buittle
William b 5th April 1759 Kells
John b 22nd May 1762 Buittle
! James Sloan m circa 1770? to Margaret (Mary) Maxwell, Father and Mother of.
(a) Margaret b 27th November 1770 Buittle Kirkcudbright m ?? James Maxwell 29th June 1806 Dumfries.
(b) John b 27th November 1772 Buittle Kirkcudbright m Barbara Haughan or Heuchan about 1795 lived Buittle Kirkcudbright Scotland
Children James b 15th May 1797 Buttle Kirkcudbright d.Young ? John b 27th November 1799 Buittle Nathaniel b 21st June 1801 James b 15th May 1803 Mary b 27th October 1805 Anne b 29th March 1807 Janet b 23rd April 1809

(c) Female b 22nd August 1775 Kells Kircudbright
(d) James Sloan b 28th March 1778 c 13th May, Kells Kirkcudbright
(e) William b 10th July 1780 Kells Kirkcudbright
(f) Janet b 22nd Feb 1787 Buittle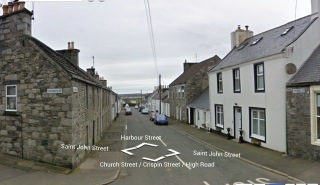 Harbour Street Creetown Today
(e) William Sloan b 10th July 1780 Kells, Kirkcudbright, Journeyman Cotton weaver, d at Harbour St Creetown Kirkmabreck 30th Dec 1861 aged 82 years, m Mary Tait (b.Minnigaff 15th Dec 1783), on 26th November 1799 at Buittle Kirkcudbright. William in 1851 census was living at Clackhams Croft as sextant, with daughter Margaret and Grandson James Henry Sloan b 1833 blacksmith.
Children (i)James b 3rd January 1800 Kirkmabreck Tailor d Feb 7th 1836 aged 35 Years. Married Elizabeth McKean circa 1832 Only son William K. Sloan b 1st January 1833. W K Sloan and his widowed mother moved to the USA to a farm owned by his uncle David Murray, called " Crown Run " 30 miles west of Pittsburg Pa. He was a trader and crossed the USA several times, An autobiography was published about his adventures.
(ii)Margaret b 4th April 1802 Buittle in 1851 was living Creetown near Wm and Grace.
with son James Henry b 1833
(iii)Jane Sloan b 22nd April 1804 Buittle.
(iv)Samuel b 10th February 1807 Kirkmabreck Lived Crispan St Creetown a quarryman.
m.26th Dec 1834 to Ann Green b 1811. Children William b 1836 d young?, Mary Ann b 1840, Samuel b 1845, Thomas b 1850. William b 27th November 1854 Kirkmabreck.
(v)# William b 6th July 1811 Kirkmabreck Quarryman stone cutter.
(vi)Thomas Hughan b 23rd September 1813 Kirkmabreck
(vii)Elizabeth b 1818 was unmarried at 1851 census
(viii)James b m ? was a coachman and cab driver had a son John who was merchant sea Captian of Ptarmigan buried Weste Cemetery Salford.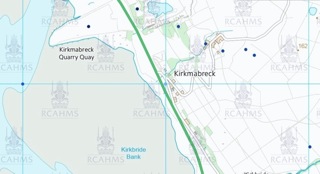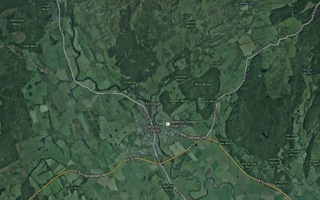 Kirkmabreck Map. Minnigaff Location
# William Sloan Quarryman stonecutter, b. 6th July 1811 Kirkmabreck Kirkcudbright, lived mainly Kirkmabreck, d Oct 10th 1876 at Port Street Dalbeattie, m 22nd April 1836,(1) Grace McKie b 31st May 1813 at Minnigaff, d May 1856 at Drumlanrig St Thornhill, Parish of Morton Dumfrieshire. Lived mainly at Kirkmabreck, Kirkcudbright Scotland. *Grace died young and kept poor health, had consumption, (Phthisis TB), which presumably caused them to place Grace and William with Robert and Margaret. Grace was daughter of William McKie a farmer and Grace nee Coultion
m (1) Children Margaret b 1831 at Kirkmabreck
Mary b 1836 10th june c 26th June 1836
Jessie b 29th August 1838 c 2nd Sept
Grace (1) b 11th Oct 1840 died young?
Andrew b 1842 12th Oct c 16th October
*Grace (2) b 1843 Lived with Robert and Margaret Sloan see below
*William b 1845 b 6th c 19th October " " " " " " " "
Thomas b 1848 19th March
George b 11th July 1851
William b 1853 14th Sept c 25th September
m (2) Janet (Jessie) Sharp aged 29 in 1856 at Kirkmahoe Was daughter of Robert Sharp "carter" and Jane nee Scott. William was then a resident toll house keeper at Cloudon.( Maybe Cluden Waters bridge on old Glasgow main road north of Dumfries )
Children Andrew b 10th August 1857 Dalbeattie
Elizabeth and Jane b 12th February 1859 Twins? Dalbeattie
James b 14th May1861 Dalbeattie Kirkcudbright
Samuel b 29th Oct 1862 Dalbeattie Kircudbright
Robert b 31st Oct 1864 Dalbeattie "
Mary b 20th February 1869 Dalbeattie "
The Sloan Family Listed Below Adopted *Grace and *William Sloan and So Far No Direct Connection Has Been Found as to the Relationship With the Above Sloans Apart From the Sharp Family Marriages by the Sloan's William b 1811 and Robert b 1809
John Sloan weaver m Isobel Graham 27th January 1767 Glasgow City
Children (a) James Sloan b circa 1768 m Grizzel Reid
(b) Alexander b 16th April 1767 d 11th November 1768
(c) Alexander b 28th February d 10th February 1774 at Larnach Glasgow.
+(d) Alexander b circa 1785/6 (survivor ?) m Katherine Williamson
+Alexander Sloan b. circa 1786 m to (1) Katherine Williamson 26th May 1805 at Crawfordjohn Lanarkshire Scotland.
Children (a) Alexander b 13th August 1805 d young ??
(c) Alexander Sloan b. 24th Oct 1814 at Crawfordjohn Lanark,
(b). +Robert Sloan b 4th Dec 1809 at Crawfordjohn, Lanark, d 23rd November 1882 NZ m. Margaret Sharp b 28th Dec 1809 at Morton Dumfrieshire, d 8th February 1879 NZ. Daughter of John Sharp and Mary nee Shankland. Lived Kirkpatrick Durham Dumfrieshire Scotland. No marriage record found yet!
It appears that Katherine, Alexander's 1st wife died, circa 1820's and Alexander lived with spouse (2) Mary Heardman and they had the following children.
(a) Catherine b 7th November 1836, (b) William b 21st November 1837 at Durisdeer, (c) Grizzel b 19th February 1841 Durisdeer. This family was living at Morton Mains farm cottages at 1841 census which showed Alexander aged 55, William aged 3, Mary Heardman 30, Catherine 5, Grizel 3 months.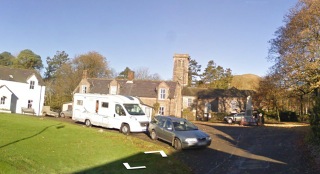 Durisdeer Present Day
+Robert Sloan b 4th Dec 1809 m Margaret Sharp b 28th Dec 1809 The 1841 census shows him living Kirkpatrick Durham and a Shoemaker Publican.They had the following family:-
Children (i) Alexander b 2nd November 1829 at Durisdeer, died 20th October1869 in Sheffield England.
(ii) Robert b 15th March 1831 d 15th March 1831 Dumfries
(iii) John b 11th January 1832 Durisdeer Dumfries d. 26th August 1908 Bootmaker Invercargill NZ m. Isobella Gilchrist 28th January 1875 at Riverton NZ, Children, Isabella Watson Sloan b 1877 d. 5th june 1933 Wellington NZ, Alice Gilchrist b 1880 d 15th August 1900, Robert b 1881 d 9th October 1937, Margaret Grace Sharp b 1884 d 25th May 1900, Alexander John b 1885 d 4th November 1961. Isabella Sloan nee Gilchrist b 1848 d 16th August 1919 aged 71 years, was daughter of the late Donald Gilchrist, Campbelltown Argylshire.
# (iv) James b 23rd January 1834 Kirkparick Durham Kirkcudbright, a #Tailor set up shops at Invercargill, Hokitika and finally 1868 in Wellington d 21st July 1914 Wellington NZ m. Annie ? b 1840 d 17th October 1914. A son Robert Anderson b. 1869 d. 4th July 1873. Also had twin sons b. 8th July 1874 Eldest daughter Annie Mary b. 22nd July 1871, m. Geo Troup Wellington March 1897, another daughter m. a J S Butler Wellington NZ.
(v) Thomas b 1836 Bootmaker Invercargill d. 2nd August 1913 Queenstown NZ aged 77 years m. Elizabeth Patterson Invercargill who d 11th February 1880 in childbirth aged 35 at Invercargill. Son Robert b 1864 died 1888 in accident at Wanaka NZ whilst rabbit shooting - fell over a bluff. Daughter Margaret Jane d. aged 8 months, 31st March 1866 Invercargill.
(vi) Jean b 1839 Kirkpatrick Durham Kirkcudbright Scotland
# (vii) Robert b 1841 Kirkpatrick Durham, #Tailor with brother James Wellington NZ d. 3rd June 1923 Newtown Wellington NZ, m Margaret. d. 21st December 1940 aged 80. They had 4 sons, one James McGlashen Sloan m Edna Norma Ellison 14th Dec 1916, another was William T. Sloan b. 1869 d. 17th October 1925 was married to Mary ? lived Wadestown.
* (viii) Grace b 1843 from William and Grace's family adopted by Robert and Margaret. Due to Grace's ill health? Died 12th Sept 1863 on ship "Donald McKay" travelling to Melbourne.
* (ix) William b 1845 b. 6th October 1845 Kirkmabreck, (Also adopted. by Robert and Margaret). d. 10th January 1906 Invercargill NZ a Bootmaker. William m. Jane Ross Mckenzie November 1871 NZ Invercargill d. 3rd July 1916. Jane was b. Aberdeen Scotland 1835. William was in the 1870's 1880's a successful entrepreneur owning many properties including a share in Morton Mains a 35000 acre farming property and built Sloan's Theatre then Invercargills premier function/entertainment venue as well as interests in coal and mining. He and older brother John were declared bankrupt in 1887.
Children. (a). Robert William b 1871, m Edith Louise Walker, he d. 4th July 1914, 3 children Edith Gertrude (Hinemoa ) b. 1902 Huia b. 1904 Rea Felicity d. 14th May 2014 in St. John, New Brunswick, Canada where Edith moved the family after Robert's death, (b). James Alexander b 11th november 1877 Invercargill d Balclutha NZ 1951, m Helen Forsyth 11th November 1909 1 child Edna Bowler Forsyth Sloan m William Daniel Sceats 4 Children, Kathryn Gillian, Sally Sloan, James William Jon, and Susan Jane. (c) William b. 1880 d. 3rd April 1917 Mataura (d). Charles Robert Sharp b.1883 d. 4th January 1923 m Emily Alice Bress d 7th January 1962 lived Wairio Children Myrtle Valentine b. 1908 Charles William b. 1912 Ronald Peter b. 1916 d. 1986 (e) Alexander John b. 1885 d. 4th November 1961 m. Elizabeth d. 31st August 1977. (f) Sister ( Emily Gertrude ? b. 1891 d. 1927 ) lived North Island
(c). Alexander John b 1785 d 4th November 1961 m Elizabeth d 31st August 1977, (e) Sister ? lived North Island.
(x) Margaret b 1848 Kirkpatrick Durham Kirkcudbright m Stephen Nobel Brown 24th November 1870 at bride's parents home "Sylvan Bank" Invercargill. Lived Dunedin NZ.
Robert and Margaret Sloan's family came to Invercargill NZ in 1862 via the "Donald McKay" to Melbourne "Gothenburg" from Melbourne to Otago NZ

Return to Home Page